Nov 7, 2016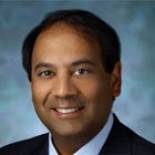 In general, the most dreaded complication associated with atrial fibrillation (A-fib) is the occurrence of stroke. The first line of defense is usually a blood thinner–an oral medication taken to reduce the risk. But for some patients, these are not a safe solution. In these cases, a new implantable device called the Watchman™, may help.

Listen in as Manish Shah, MD, an electrophysiologist at MedStar Heart & Vascular Institute at MedStar Washington Hospital Center, explains the benefits of the Watchman.

MedStar Washington Hospital Center is the first in the region to implant this device.